If the thought of visiting Bali makes you nervous, then let me encourage you: it all depends on where you stay.
Which is why I am sharing my experiences at the Nusa Dua Beach Hotel and Spa. It was our first trip to Bali, and we were pleasantly surprised. Come with me to find out more …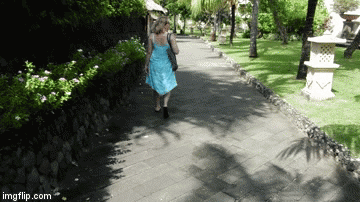 I must confess that Bali wasn't really on my bucket list – what with all the reports of terror attacks, drug smugglers, bogan Australians drinking too much and behaving badly – not to mention Bali belly (which I got in the Philippines in 2009, an experience I wasn't keen to repeat!).
But with my 50th birthday to celebrate, and some great deals on offer, last month we found ourselves jetting off to Bali. And what a great holiday we had!
Nusa Dua: Bali for Wimps
If you too are hesitant about Bali, I highly recommend that you book accommodation in the exclusive Nusa Dua precinct. All vehicles entering Nusa Dua must pass through a security checkpoint, which helped to allay our fears about terrorist activity.
Nusa Dua is also away from the hurly-burly, and offers a more peaceful, sheltered experience. You are mostly protected from the over-enthusiastic and sometimes downright annoying hawkers that you find elsewhere (although you will find hawkers – approved by the hotel – on the private beach, they are definitely not as "in your face").
Some might argue that this is not the "real" Bali, but if you want authentic Balinese culture, there are plenty of places (such as Ubud) you can visit on day trips, while still enjoying your creature comforts. However the resort does host three cultural evenings per week in the outdoor amphitheatre where you are treated to local delicacies, dance and music.
Nusa Dua Beach Hotel and Spa Review
The Balinese believe that their country is heaven – and after our stay at the Nusa Dua Beach Hotel and Spa we definitely agree with them!
What's not to love about a 5-star hotel in such idyllic surroundings?
The whole complex is beautifully kept, with all the facilities you would expect – three pools, a private beach, spa offering luxury treatments, five restaurants and bars (including a swim up bar), tennis and squash courts, a travel bookings desk to help you organise any day trips, and even a couple of shops and boutiques.
You can't help but feel relaxed as you stroll past water features and are shaded by lush tropical vegetation. Tiny squirrels scamper through the low hanging tree canopies, and chitter excitedly.
Our room was spacious and air conditioned (essential in the humid climate), with all mod cons. I wouldn't call the decor Bali-style exactly, but there was a definite Balinese influence. Our balcony however was next to useless, which we found disappointing – it was in full sun all day long and far too hot for comfort (though it was great for drying off our swimmers quickly!).
The buffet breakfast was a highlight of each day, offering an astounding array of food – much of it cooked at food stations right in front of you, to your specifications. There were Asian favourites like noodles and sushi, full English breakfast options, American treats (waffles anyone?!) and tropical fruits, plus the regulars of toast and cereal. We found that after such a filling breakfast, our tummies were so contented we rarely needed lunch.
What about the Water?
There are some basic rules worth following if you want to avoid ruining your holiday with a case of Bali belly. Don't drink the water – this extends to avoiding ice in your drinks, making sure you brush your teeth with bottled water, and steering clear of salad or unpeeled fruit.
At the Nusa Dua Beach Hotel and Spa, you are provided with bottles of free water in your bathroom, which are replenished every day. We asked for more, as we found it wasn't quite enough for our needs, and these were promptly provided.
You also don't have to worry about the ice in your cocktails – I was told it was created from bottled water, although I still had some misgivings when my first cocktail was served with ice cubes clinking! I drank it fast, so that the ice didn't have a chance to melt (that's my excuse and I'm sticking to it). At any rate, I didn't develop any stomach issues so I'd say that proves the ice at the hotel itself is okay.
The Downsides
As previously mentioned, we were disappointed with our balcony (though it was nice after the sun set), but it all depends on which room you are in.
And, the drinks are hella expensive – even the non-alcoholic ones. Hubster took a liking to an energy drink which at the resort cost approximately $4.50 AUD; at a convenience store in the Bali Collections shopping mall up the road, it was approximately 90 cents Australian!
The service was exceptional, except we always seemed to hit a queue at the reception desk.
Overall however, the hardest part of our holiday was having to choose: beach or pool?!
Of course, the ultimate test is whether I would go back: it's a YES from me!
Have you ever been to Bali or the Nusa Dua Beach Hotel and Spa? What's your favourite place to stay in Bali?
NB This post is not sponsored in any way, simply wanted to share our experience of the Nusa Dua Beach Hotel and Spa.
Joining up with some of my fave bloggers for: